Rubix IO: Modbus RS485 Wiring
Nube-iO Rubix IO Modules are a pure Modbus device; All communications with the IO Modules are via Modbus. This article will detail the correct wiring for the Modbus RS485 Network. To communicate via Modbus the Rubix IO Module must also have its Onboard DIP Switches configured correctly to set the Modbus Serial Communication Parameters.

Rubix IO Modules: Configuring Modbus Communications Parameters

Connecting RS485 Network (Wired Network)

When using the wired network connection, the IO Module RS485 Modbus connection is used. The connector is terminated and installed as shown below.
When Networking multiple IO Modules on an RS485 network, each controller is connected in a `Daisy Chain`. Controllers that are connected between 2 other controllers will have 2 wires (one from the previous controller and one from the next controller) in the same terminal. Ensure A/+ and B/- wires are kept consistent for all controllers on the network.

Note: Modbus settings on the gateway controller must match those set on the connected IO Modules. All devices on a Modbus network must have the same Modbus network settings.

Modbus RS485 Passthrough - Wireless Modbus Extender

Modbus RS485 Passthrough is available on IO Modules equipped with a LoRa (Wireless) Comms. In this mode the wired Modbus RS485 data is sent wirelessly to the LoRa gateway.

When using a Rubix IO Module as a wireless Modbus passthrough, the RS485 network is connected only to the third party device and the Rubix IO Module, as shown below. The RS485 wiring is the same as described above.
When wiring an RS485 network a single shielded twisted pair (STP) cable should be used. The twisted pair cable cancels out interference and ensures that the 2 conductors are at the same lengths. Having a ground shield on the twisted pair cable further provides protection to interference on the RS485 network.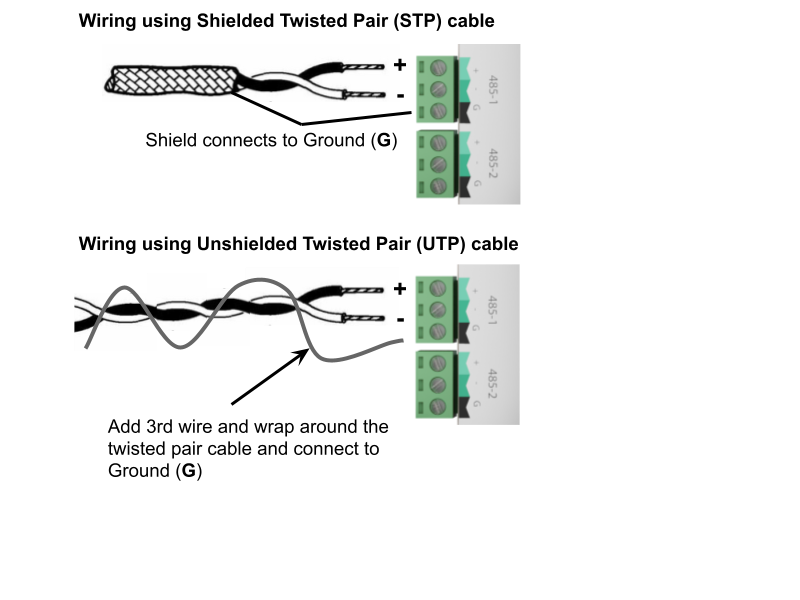 Related Articles
Related Articles

Rubix Platform: Modbus Network Configuration

This article explains how to configure the Modbus Network within Rubix Platform. This will allow us the send and receive Modbus data from connected Modbus devices. Ensure Modbus Service is Running It is important to ensure that the Modbus Service is ...

Rubix IO: Configuring Modbus Communications Parameters

In order to communicate via Modbus the IO Modules must be configured correctly. The Modbus ID/Address, Baud Rate, and Parity must be configured correctly to communicate over the Modbus RS485 Network. Preparation Rubix IO: Modbus RS485 Wiring ...

Modbus RS485: Networking Best Practices

This article is a technical guide to establishing and troubleshooting wired Modbus RS485 networks. Many signal integrity and communication issues with RS485 networks stem from incorrect wiring and terminations, usually from improper termination or ...

Rubix Compute: Modbus RS485 Wiring

Modbus RS485 Terminal Wiring To establish communication with Modbus RS485 devices, the RS485 connectors are terminated and installed as shown below. Modbus RS485 Networking When Networking multiple devices on an RS485 network, each ...

Rubix IO: Getting Started Guide

Introduction to Rubix iO Modules Rubix iO Modules are Nube-iOs physical input/output devices. These compact and scalable physical IO devices are pure modbus and designed to integrate with the rest of the Nube Product Ecosystem, or with third party ...