How do I transfer my HIN or Stock from another broker?
When you complete an online application, you can choose to transfer your HIN from another broker or establish a new HIN with Marketech.




**For active traders who want to trade sooner, we

RECOMMEND

establishing a new HIN and then transferring the stock from your other broker once your account is set up, as HIN Transfers can take 5-7 business days to complete.**




Transferring your HIN from another Broker
In the online application, complete the details of your current broker and HIN. This will prepopulate the Broker to Broker HIN Transfer Request form which you can print at the end of your application.

Print the form, sign with pen and attach any documents requested then email to support@marketech.com.au

Transferring stock held with another Broker to your Marketech HIN
Go to our Forms Library and download the Broker to Broker HIN Transfer Request form to complete.

As you already have a HIN with Marketech, tick the box "Transfer only the holdings listed below from my HIN" on the form.

List the securities and quantities you are transferring.
If you have a large list of stocks to transfer, you can attach a current portfolio valuation report (PVR), however all security holders must sign and date each page of the PVR before attaching it to send with the completed Broker to Broker HIN Transfer Request form.

IMPORTANT THINGS TO NOTE:

Completing the form: please refer to items in

red

below.

Signature: the HIN/stock transfer form must be printed and signed with a pen by all security holders.


Amendments

: any amendments to your form must be initialed by all security holders.
Time: the processing time is usually 5-7 business days (depending on the requirements of your existing Broker, as they are in control of the process).


Identification

: please attach photo ID so we can verify your signature. Some brokers will ask for a certified copy of your photo ID. We will advise you if this is the case and do our best to ensure the prompt transfer of your HIN/stock.

Trading: make sure you have no outstanding orders and all trades have been settled with your current broker before you send us the form.


Unmarketable parcel of shares

: can only be moved via an entire HIN Transfer. The transfer of shares with a value less than $500 is not permitted under ASX and NSX rules.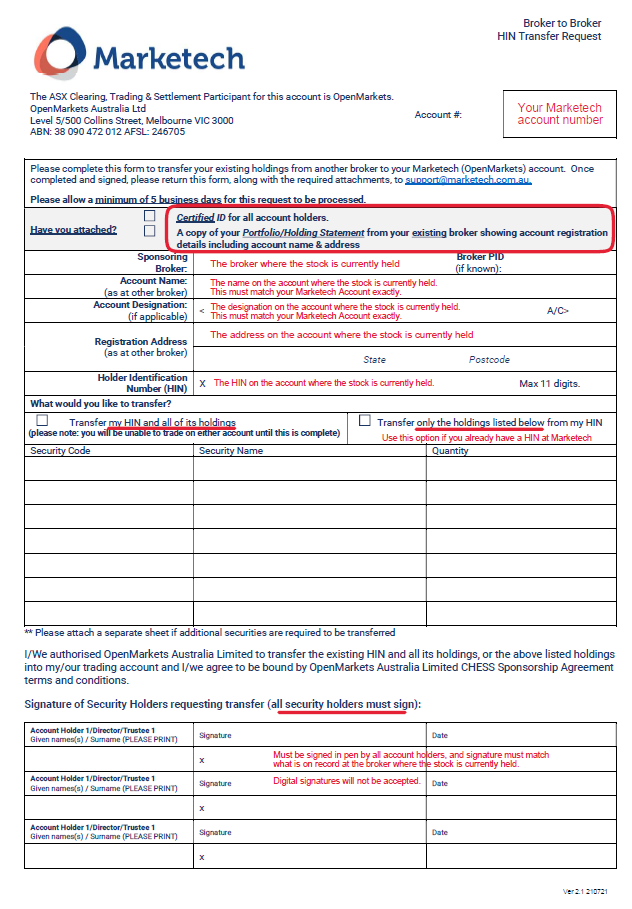 Related Articles

What if my HIN transfer doesn't work?

Here are a few reasons your HIN/stock transfer request can be rejected or delayed: Electronically signed - your transfer request form must be signed by pen. Incorrect details - check that you have provided us with the correct HIN and broker PID. ...

Are there fees when transferring my holdings to Marketech from another broker?

Marketech do not charge for HIN transfers or uploading stock from an SRN. Off-Market Transfers do attract a fee of $27.50 per holding. This fee is charged to you directly by OpenMarkets, on your authority they will debit the fee directly from your ...

How do I transfer issuer sponsored holdings to my Marketech account/HIN?

To transfer issuer (SRN) sponsored holdings to your Marketech HIN, simply: Print and complete the attached Issuer Sponsored Holding Transfer Form (the form must be signed by pen). Submit to Marketech at support@marketech.com.au Attach copies of your ...

What is CHESS? What is a HIN?

CHESS (Clearing House Electronic Sub-Register System) is the computer system used by the Australian Securities Exchange (ASX), Chi-X Australia (CXA) and National Stock Exchange (NSX) to record shareholdings and manage the settlement of share ...

Where can I find my HIN?

Your HIN and other account details can be found as per below: In the portfolio tab, next to your account name, click the A pop up will appear of your accounts. Click the then 'view account details' Your HIN is available under 'Trading Account.'